I'm grateful to be sharing these words with you on Earth Day 2020… Our planet is healing during this global pandemic and returning to business, as usual, is not an option for our beautiful earth.
"When we join our hearts together, the land and the waters will be saved" – @IsaacMurdoch1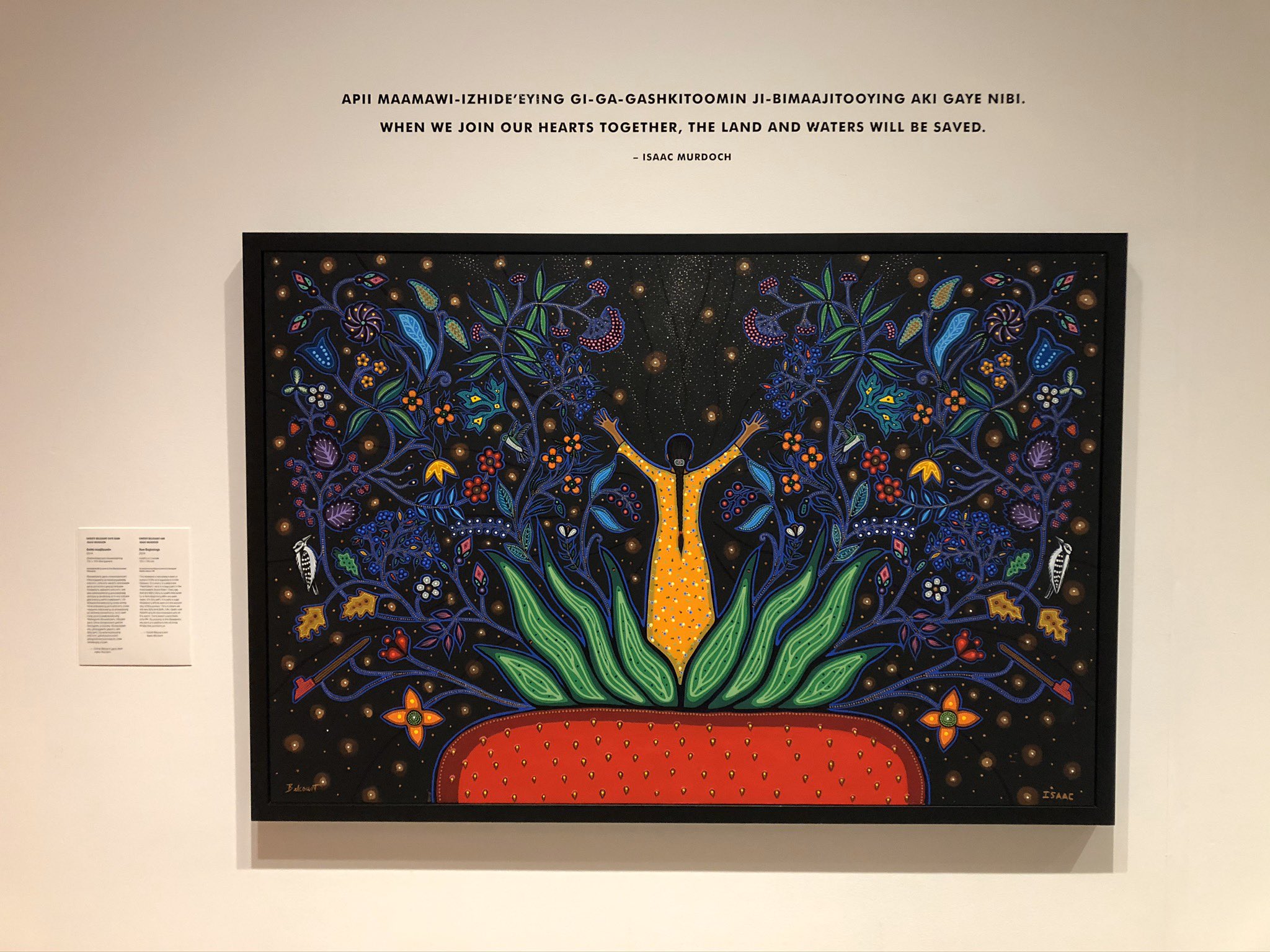 Artwork by @christibelcourt
As many of us are staying home and physically distancing to keep one another safe during these difficult and unprecedented times (words that have become more natural to our day to day vocabulary it seems) of a global pandemic – I want to acknowledge that I am fortunate and able to be a guest of this land – the traditional, unceded, and unsurrendered territory of the Algonquin people, that is keeping me safe, housed, and the ability to be writing to you today.
Progress over perfection – that is what I'm telling myself to get this update out to you.
It's been many weeks since my last update in this journal, and so much has changed and happened. I think it's due to the gravity of the situation that we have found ourselves in during this global pandemic. The hectic and busy nature of hourly, daily, weekly developments in how we are inundated with news and updates about the all-hands-on-deck response to COVID-19, I think has made it difficult for me in committing to my thoughts and reflections as they continue to evolve and re-shape based on new information, evidence, and opinions.
I also think back to an ongoing feeling of dread and worry I have had since the most initial of reports regarding a cluster of pneumonia cases in Wuhan, China was shared in late December 2019 and early January 2020. Wuhan is the place that many of my family members live and reside, and up until April 2018, I was visiting Wuhan frequently to see and spend time with one of the best friends of mine, my grandmother. Only a few days ago, I realized that it had been exactly 2 years since her passing from cancer. I was again acutely reminded of a place I hold close to my heart – that people in my most immediate physical community may now be feeling the disastrous impacts of nonpharmaceutical public health interventions (e.g. physical distancing, quarantine, self-isolation) similarly to those in Wuhan who have been under strict lockdown and stay-at-home measures since late January 2020. The good news is, Wuhan started to ease off their lockdown measures earlier this month in April 2020.
It's hard to think that only six weeks ago, a global pandemic was declared by the World Health Organization, and that same week I was finishing up my last few days of clinical work in the hospital for my fourth year of medical school. The hospital environment has drastically changed over these few short weeks (which have likely felt quite long for many, and for some, the days have blended and bled into one another) with increased infection prevention and control measures, cancelled clinics and surgeries, and many fewer visitors.
And to also think, seven weeks ago, I found out that I matched to residency training in public health and preventive medicine in Ottawa. Only a few weeks later, when a global pandemic was declared, that I found myself asking to help out with the team at Ottawa Public Health on the COVID-19 public health response in the Ottawa community. It's been many weeks now, and I've been grateful to be working with and learning from a very hard-working and compassionate team working around the clock to protect the health of the community from COVID-19.
Here is my attempt at committing to some thoughts, based upon my conversations with Canadian youth over the past few weeks in a variety of formats (the most formal type of engagement being these virtual roundtables over video teleconference), discussing global public health issues in the context of a pandemic. I feel very fortunate to have had the opportunity to connect virtually with many inspiring, thoughtful, and engaged youth, students, and young professionals that took time to share thoughts, ideas, and reflections with me.
I found myself starting each roundtable discussion with learning about my peers, friends, and colleagues on these virtual meetings – grounding the discussion with where each of us is coming from and what we are bringing to the space and time we are thankful to share with one another. With those introductions, I would share much of how I understand the role of the Canadian youth delegate to the World Health Organization or WHO (something I hope to write something a bit longer one). In short, I am working in collaboration with the Office of International Affairs of the Health Portfolio (within the Public Health Agency of Canada) to help inform and shape the Canadian policy and diplomacy stances leading up to particular engagements with the WHO, such as the upcoming World Health Assembly (the decision-making body of the organization attended by delegations from all member states and focuses on a specific health agenda decided by the executive board).
During the global pandemic, we are seeing the WHO under a unique lens. A particular role that the WHO fulfills is to provide technical advice and expertise, leadership, and guidance to member states. Outside of a global pandemic, there is a vast array of important global public health priorities that are actioned on with policy, programming, research, and practice – such as, access to primary care and essential health products, universal health coverage, sustainable health financing, controlling other communicable diseases (i.e. malaria, TB, HIV/AIDS, hepatitis, dengue fever), antimicrobial resistance, vaccination programs, chronic disease management, cancer, mental health, training of healthcare workforce from community health workers in remote villages to tertiary hospital settings, disease surveillance and monitoring, preparing for and mitigating other health emergencies, sexual and reproductive health, maternal/child/adolescent health, gender/equity/human rights, the list goes on… 
I'm tremendously grateful for the Canadian youth that took the time to complete the Canadian Youth Consultation Survey Form that I shared. Some of the priorities highlighted by those that shared their thoughts gravitated to 1) Universal health coverage: moving together to build a healthier world, 2) Primary healthcare, 3) Maternal, infant, and young child nutrition, 4) WHO Health Emergencies Programme, 5) Global strategy and action plan on public health, innovation, and intellectual property. 
However, recognizing the unique situation we currently are in, our discussions in the roundtables naturally focused on a few other areas: 1) COVID pandemic impacts locally, how has it impacted you, and how youth can get involved and help 2) Opportunity for change from COVID (i.e. universal basic/guaranteed livable income, climate change action).
I have not fully synthesized (will I ever feel finished?? not sure.) my thoughts from the many discussions had with Canadian youth across the country, in written format, over the phone, or over video teleconference. Including the wonderful discussions, I have had with the Office of International Affairs on updates and snippets into my thoughts and reflections thus far. Here is a sneak peek into my work in progress, and I welcome your ideas and thoughts!
Identity: Our intersectional identity that we take to experience life and the discussions we take part in, also inform and affect how we deal with loss and how we're impacted by the global pandemic. Some of the Canadian youth I spoke to were champions of staying at home and practicing good physical distancing, taking care of themselves or taking care of others in their family and communities. Others were organizing initiatives and projects to ensure certain unmet needs in their community were being addressed (e.g. public health contact tracing work, fundraising and collecting PPE for healthcare workers, doing errands for those that couldn't, and the list goes on). Others were working in healthcare or non-healthcare settings, ensuring essential work continued and that patients continued to receive healthcare services. So many people are affected, in different and in perhaps complex invisible ways that you might not expect. With some people being disproportionately affected. It's a lesson in being kind. In being compassionate towards others.
Equity: COVID-19 doesn't discriminate, but society does. COVID-19 is not an equalizer, when society was not equitable, to begin with. For what we understood to be normal, let us work to change those things, so that we are able to build a new and renewed normal that truly reflects a world and planet that we are proud of.  Let's change the normal. We need to do better collectively as a society and in partnership with and the leadership of communities for advancing the health and wellbeing of Indigenous peoples in Canada, people who are homeless, and our older adults and seniors. With an equity lens, we are also better able to approach global health discussions in the context of a pandemic with disparate local issues by thinking globally and acting locally – the WHO and United Nations advocate to "leave no one behind'.
Grief: People are at different places in their stages of grief for life as we know it. At its worst, it manifested as a sense of panic. The many reports of those going out to purchase, buy, and hoard food and supplies earlier on, I could appreciate a sense of familiarity as I too attempted to regain a sense of control – I found myself doing a lot of cleaning and organizing/re-organizing of my belongings. We have collectively, for the most part, jumped off the neverending hamster wheel of routine work/study/play and there is a sense of stillness – an opportunity to breathe and reflect on our lives and society that has taken a pause. An important and critical reminder is that the sense of urgency and emergency during this pandemic – it may be comparable to a sense of urgency that more vulnerable peoples feel on a regular basis. Practicing gratitude is an ongoing lesson in humility and acknowledging privilege.
Connection: I think we've also learned that our human systems are connected and mutually dependent. With globalization has come with an appreciation and absolute recognition that we are stronger together, but that inequities and vulnerabilities including faults in the systems ultimately affect us all.
Language: Our language and how we choose to intentionally or unintentionally talk about a crisis affects our perceptions and what is acceptable. Narratives to compare the COVID-19 pandemic to war could be disrespectful for those experienced or experiencing conflict, and harmful if we equate our health and wellbeing to success and disease and illness to defeat.
Prevention: The exacerbation of a global pandemic has put into question our preexisting systems for prevention and preparedness. I had an opportunity to engage in a fruitful and thoughtful discussion on how to strengthen and invest in our public health and prevention systems between crises, in order to prevent crisis from happening. The paradox of prevention and negative deliverable in public health comes easily to mind when it is the exact absence of a crisis that demonstrates investments realized – a difficult sell in our current political system perhaps. A health in all policies approach, an understanding of ensuring various sectors consider the health implications to policymaking, is maybe one of the ways forward.
Evidence: We are experiencing evidence-based medicine unfold in real-time, with new clinical management pathways and treatment methods be explored and investigated prior to the timely (hopefully) creation of a vaccine for COVID-19. Many sectors including public health and healthcare are operating in mostly unknown territories with constantly evolving evidence and knowledge to help best inform decisions and actions. As others have said, we are flying the plane while building it, and with no tried and true air traffic controller direction and instructions.
Climate change & planetary health: After all, it is Earth Day. The emergence of a novel coronavirus of zoonotic origin is an acute reminder of our human interconnectedness with the environment and nature. I urge you to learn more about planetary health and the One Health approach, an understanding that we are all connected – humans, plants, animals, our earth. We have seen tremendous responses, in concert with public health, epidemiology, and infectious disease experts, from public institutions to protect people from a health, social, and economic lens during the pandemic – much can be learned from such an imperative for responding to the greatest threat to global health in the 21st century – climate change.
Your wellbeing: Above all else, in medical school, we are taught that in order to take care of others, you have to take care of yourself. This is a time that many different people have taken approaches to use their time in a way that makes sense for them. In a socially connected community that has largely gone virtual – the negative effects of social media haven't been emphasized as much these days, likely because the alternatives are limited due to physical distancing measures currently in place. Don't feel like you need to be productive or follow what you see others are doing – take care of yourself, then can you only begin to take care of others, like your friends, loved ones, and community members. You do you.
"We're all in this together. Physically distant, but socially connected." Thank you to Dr. Sarah Funnell an Associate Medical Officer of Health at Ottawa Public Health that made these wonderful t-shirts.
I hope that during these profound times, you are able to live with intention and purpose. That you also, critically think, appraise and analyze, the information being shared. And to always spread kindness and hope, and practice compassion and courage especially in the face of adversity.
-yipeng